Facts in brief about aforementioned social welfare organization: It is a cent per cent non-sectarian, non-communal socio-economic non-government organization dispensing humanitarian services to especially helpless orphans, distressed widows and similar other men and women since inception in 1977. Founder Secretary-General Jivanananda Mahathero is a celebrated Monk dedicating his life to service of suffering humanity by all possible means. In recognition of his selfless and most commendable services to the have-nots of the area, the Mahathero was honored with a gold medal by Chittagong Divisional Welfare Federation in 1990 and UNESCO Club prize in 1992. He is a peace representative of Chittagong as selected by the World Peace Prayer Society (New York) in July, 1993. The Mahathero is a member of many international organizations such as (a). The World Congress (New York) (b) The World Peace Prayer Society (New York) (c) Asian Fund Raising Group (Madras, India) (d) International Abolitionist Federation (Paris) (e) Buddhist Peace Fellowship, Barkley, USA (f) International Association for Religious Freedom, Frankfurt, Germany (g) World Peace Council, Japan and (h) World Prosecution of Women Protection Council (France).
Ven. Jivanananda Mahathero
Visit to foreign countries
Jivanananda Mahathero has, so far, visited a number of countries like India, Nepal, Srilanka, Thailand, South Korea, Taiwan, Honk Kong, Singapore, Japan, Australia, United Kingdom, Austria, Belgium, Italy, France, Germany, United States of America and Canada to take part in international conferences. In all such conferences, the Mahathero was very cordially invited and accorded hearty reception.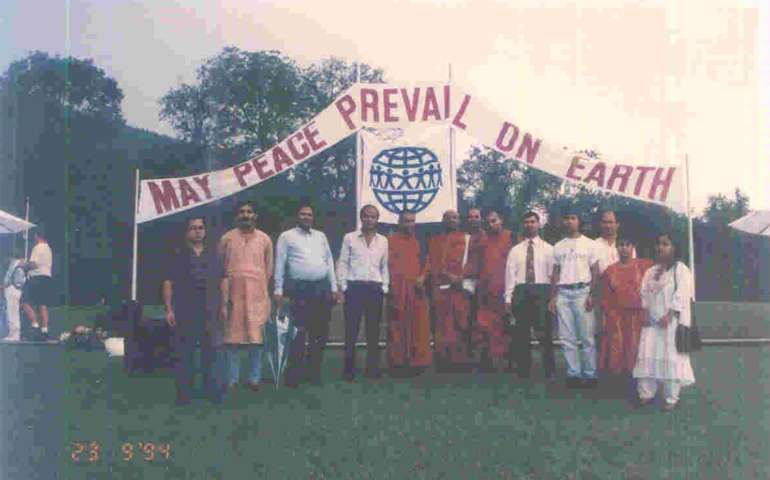 The Mahathero has a facile pen and has, so far, contributed many articles in national and regional newspapers. He is also an author and his publications are (1) Manob premik Joseph Wresinski (2) Jibonalekko Jivananda Mahathero (3) Love the Orphans. As known to many people, the Mahathero is personally a very kind and generous person helping the needy peoplewhenever possible. Under a social development program, he has donated 60 sewing machines to distressed women, many of them are now solvent. It is very important to mention here that he contributed Tk.5000/ to each most needy family to construct low-cost dwelling houses. Moreover, he has also helped some poor families to arrange marriage ceremonies of their daughter. Such charitable activities have ceased to continue for quite a longtime because of non-availability of necessary fund. Under such circumstances, Jivananada Mahathero is making fervent request to all benevolent persons and charitable organizations at home and abroad to donate fund so that his orphanages, as mentioned above, can again start functioning as before. This is an appeal to help the orphans and other types of distressed women.